4 Key Actions to Strengthen Your Disability Program
By Jung Ryu
Any time employees face health conditions, the organizations they work for feel the effects. Whether they're having chronic pain or need time off to treat a mental health issue, the effects can be challenging.
How can you support employees while ensuring your business stays productive? Make sure you have a solid approach to managing absence and disability. And partner with a disability carrier that can help you with four key actions.
A Holistic Approach
Our Absence and Disability Readiness Index Report shows that only 37% of employers say their disability programs are well-managed.1 And only 48% of companies have return-to-work/stay-at-work programs in place.1
Meanwhile, HR decision-makers report getting regular requests from employees needing accommodations for a variety of conditions.
How does your program measure up? Is your organization often in a reactive mode? Does your program ask employees to prove they're disabled before providing help? Are you treating health conditions with a siloed approach?
If you answered yes to any of these questions, a more holistic approach may be the solution. A disability carrier can help you look at all the factors that may be delaying an employee's recovery. For example, treatments may not be going well, or the employee may also be dealing with financial or complex family issues.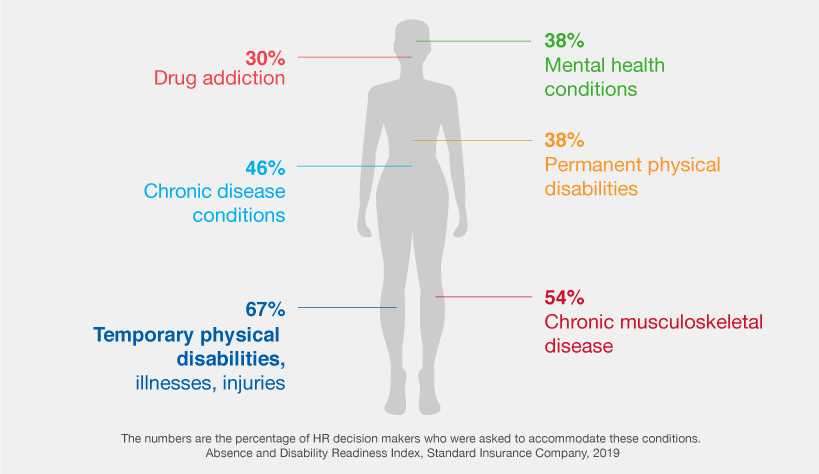 An approach that considers these kinds of factors can lead to more creative accommodations. Then you can pull in other program benefits that help employees stay productive at work or return to work sooner.
4 Key Actions
Ready to strengthen your absence and disability program? Look for a disability carrier that can help you complete these four key actions:
Identify employees in need of assistance. If you're unsure how to identify and support employees with a medical condition, you're not alone. Your disability carrier can get familiar with your organizational culture, integrate with your benefits team and help managers identify employees in need of stay-at-work or return-to-work assistance.
Interact with employees. Your disability carrier's consultants should be trained to interact with employees. A consultant can help you see what outside issues may be delaying an employee's recovery and come up with the right resources.
Integrate programs. Your program can — and should — go beyond stay-at-work or return-to-work plans. The right disability carrier can help you draw on all benefit resources to provide a full range of support. You can support employees by helping them navigate the health care system through referrals to disease management, wellness or employee assistance programs.
Improve outcomes. A comprehensive approach that treats the whole person has many benefits. This approach can help an at-risk employee stay at work or an employee with a disabling condition return to work sooner. Our report shows that 92% of HR decision-makers say formal disability programs help control other costs and reduce exposure to risk.1 And 31% report improved worker productivity.1
Productivity Wins
Higher productivity can have a far-reaching impact on your organization. Fully functional employees can help increase employee engagement, because employees generally want to contribute and feel like they're making a difference in their work. Not only that, engaged employees are often more productive. This can help boost your organization's bottom line.
About guest blogger Jung Ryu
Jung Ryu is the national accounts practice leader for The Standard and is responsible for developing comprehensive disability management solutions that address the whole person to meet the needs of the most complex clients. He provides recommendations in all aspects of benefits, ranging from core to ancillary products. He focuses on providing strategic direction and advising stakeholders on the latest benefits trends.