A Message From Greg Ness, Chairman and CEO
We must come together with compassion, understanding and unwavering focus to confront and address racial inequality and injustice.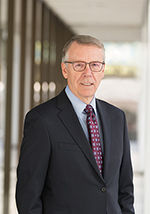 On May 25, George Floyd was senselessly killed by a Minneapolis police officer. On March 13, Breonna Taylor was killed in her home by police in Louisville, Kentucky. In February, Ahmaud Arbery was murdered while jogging in Brunswick, Georgia, with seemingly little response from local law enforcement for months.
These names are just the latest in a long and tragic list of Black Americans who have been victims of hate crimes, bias and violence.
It's unacceptable.
In response to their deaths, and the deaths of many before them, our country seems to have reached a breaking point. Every major social change in this country — abolition, suffragism, civil rights, ending the Vietnam war, gay rights — has involved protests, people coming together and speaking with one voice to demand change. Recent demonstrations highlight frustration and a long-simmering anger about a lack of progress in addressing systemic racism. As a society, we have done too little, for too long, and that must change.
I want to be very clear: racism and bias have no home at The Standard. Several years ago, our company brought a renewed focus to diversity and inclusion. I'm proud of the work we did, but it's clear our focus now needs to expand. We're challenging ourselves to listen more closely not just to our employees, but also to our customers, neighbors and community leaders to better understand racial injustice and take steps to dismantle it. We're directing funding where it's most needed and matching donations from our employees to racial justice groups. We're partnering with community leaders and organizations to learn where we can amplify efforts with elected officials to enact policy reforms that better support Americans who have traditionally been disenfranchised. And we're just getting started.
The people at The Standard believe in the promise of equality and the power of compassion. Our commitment has not changed — caring about each other, finding strength in community and speaking with one voice to demand an end to racial injustice — but our determination has changed.
Together, we are working toward a more equitable future. Only together can we work to repair the frayed social fabric of our society and instill the sense of opportunity, equity and fairness too many of our community members lack today.